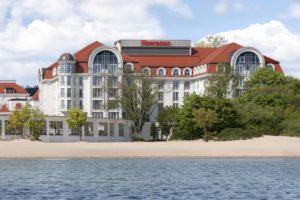 ANNOUNCEMENT I
REGISTRATION FORM
Dear Colleagues,
The Polish Coal Combustion Products Union has for the 26th time a pleasure of announcing that the annual Conference ASHES FROM POWER GENERATION will take place on October 8-10, 2019, in Sheraton Hotel in Sopot, Poland.
As an event of importance for the coal-based power and CCP utilization sector it is going to be yet another good venue for meeting of academics and practitioners, specialists from coal-based power sector, CCP market operators, providers of process equipment, and transport and sales agencies.
The Conference is aiming at gathering participants from all the above groups in order to promote the knowledge and science on topics that are soon to constitute the necessary business conditions for generating and utilizing CCPs, which the Circular Economy regulations and practices are inevitably to become.
One of important elements of discussions within the Conference will be seeking recipes for preemptive mitigation of business risks, as well as cost-effective solutions for dynamic growth of market applications of CCP in general economic practice.
The experience from our previous Conferences shows their unique networking capacity allowing for creating new business contacts, meeting other people from ash-sector and developing knowledge.
A tangible effect of the Conference is always the coming-together, exchanging views and ideas, and starting new forms of practical co-operation of the Polish scientific and industrial sectors. Therefore the Conference is also now a platform for presenting the scientific thought to sectoral specialists.
The proceedings shall allow to formulate conclusions and postulates to be presented to state administration and used in the activities of the Polish CCP Union for promotion and development of the CCP sector, such as:
promoting the CCP-related science, knowledge and issues in order to change the mindset and the perception of anthropogenic minerals as valuable resources by society and authorities,
activities for uniting and co-ordinating work and efforts of individual entities engaging in power and CCP sector, to create a significant potential for implementing rational ideas and regulations of importance for industrial and academic communities,
promoting the idea of the Circular Economy as an opportunity for the power sector to approach CCPs as valuable anthropogenic resource for infrastructural construction,
expanding the co-operation with the power sector in order to effectively influence the government in implementing the "secondary first" idea.
With best regards,
The Board of the Polish Coal Combustion Products Union
---
Opening of the Conference:   October 8, 2019, 13:00
Closing of the Conference:     October 10, 2019, 13:00
---
PRELIMINARY CONFERENCE PROGRAM
08.10.2019 – TUESDAY
9:00 – 11:30 Meeting of members of the Polish CCP Union
CONFERENCE
08.10.2019 – TUESDAY
13.00 – 14.00 Lunch
14.00 – 14.15 Opening of 26th Conference ASHES FROM POWER GENERATION
14.15 – 16.46 SESSION I – In search of new advantages of CCPs for the economy and power sector – waste, substance, product
19.30 – 01.00 Phoenix Awards Gala
09.10.2019 – WEDNESDAY
9.00 – 10.30 SESSION II – Practice and pragmatics of market utilization of CCPs
11.00 – 13.30 SESSION III – Innovation & technology – a necessary condition, but not sufficient for development
14.30 – 17.15 SESSION IV – Infrastructural projects – attractiveness of CCPs in civil apploications
19.30 – 24.00 Regional style dinner
10.10.2019 – THURSDAY
9.00 – 11.30 SESSION V – Intellectual clashes / exchange of thoughts & ideas
11.30 – 12.00 Summary of 26th Conference ASHES FROM POWER GENEREATION
A detailed Conference Program will be provided in Announcement No 2.
---
ACCOMODATION
SHERATON SOPOT HOTEL
Powstańców Warszawy 10,  81-718 Sopot, Poland
The Hotel has prepared a number of specially priced rooms (net prices with special discount).
Single room with breakfast ………………………………………. 320 zł net
Double room with breakfast …………………………………….. 390 zł net
Link for booking a room:
Book your group rate for Konferencja Polskiej Unii Pobocznych Produktow Spalania
Please note, that after September 29, 2019 the Hotel may no longer guarantee
rooms and discounts.
With any questions and doubts please contact The Individual Bookings Division:
tel. +48 58 767 1600
---
PARTICIPATION COST
Conference Fee: 615 EUR net

The Fee includes: participation in sessions, conference materials, coffee breaks, lunches, dinners, Phoenix Awards Gala (accommodation not included).
Fee for an accompanying person (not taking part in the Conference): 325 EUR net

The Fee includes: lunches, dinners, Phoenix Awards Gala (accommodation not included).
---
ADDITIONAL INFORMATION
The Conference may be attended after sending on time the Participation Card with payment transfer confirmation.
A VAT Invoice will be sent after the Conference Fee is received.
With the payment please give the first name and the family name of the Conference Participant.
BANK ACCOUNT:
ING Bank Śląski S.A., O/Warsaw Poland
SWIFT Code: INGBPLPW
Account Number: 61 1050 1025 1000 0023 4277 8202
Please indicate "Ashes 2019"
Failing to attend shall not entitle to the Conference Fee refund.
---
DEADLINES
31.08.2019 – notification of papers and sending of summaries
15.09.2019 – deadline for sending papers
02.10.2019 – deadline for sending Participation Cards
---
CONFERENCE OFFICE
Stowarzyszenie Polska Unia UPS
ul. Czackiego 3/5, pokój 121
00-043 Warszawa
NIP: 852-240-36-81
In all Conference-related matters please contact:
Aneta Wiski
phone: +48 661 269 565, +48 603 163 193
a.wiski@unia-ups.pl, biuro@unia-ups.pl